Reading Time:
2
minutes
Happy New Year for 2015!
It was a nice surprise to see that my own article had appeared on the RSS feed from Language Teaching Research as the advance online access is now available! I have had this RSS feed on my blog for several years and now finally I have a paper in this excellent journal, which is ranked 40 out of 169 journals in Language and Linguistics.
Seeing this made me take a snapshot and draw a smiley face (using a mouse hence very crudely) which I now wanted to share with everyone!
Here is a link to the article, which outlines my use of Self-Assessment to increase autonomy and motivation. The paper is practitioner research, using narrative inquiry and exploratory practice.
I would also like to share another article which was written by my good friend and colleague Robert Lowe which looks at the Shadow Education industry of Japan, specifically Juku or Cram Schools and their impact on ELT. The article is really interesting and I agree with his call for more research in this area. Here is the link.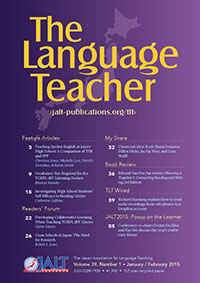 Continuing the spirit of sharing, I would also like to note that the fantastic TEFLology Podcast has received a favourable review on Russell Mayne's excellent Evidence-based EFL blog.
So, good news all round and here's to a productive and insightful 2015!